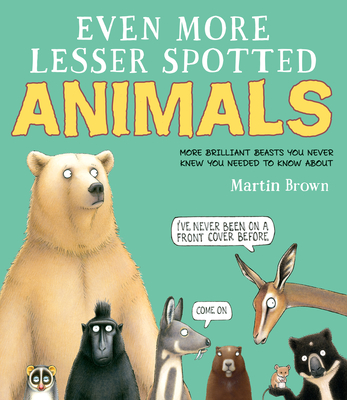 Ever heard of the dingiso or the tamandua or the gerenuk? Yes? You've actually heard of the dingiso?? Oh.
But for those of you who maybe don't know about the Blainville's beaked whale or the Artai argali or the black and rufous sengi (yes it's both black AND rufous), it's about time you did! In Even More Lesser Spotted Animals, Martin Brown shines the spotlight on some lesser known, but incredibly fascinating animals.
With fun, cartoony illustrations, Brown gives these animals personality and pizazz. His text is funny and engaging. You'll discover some not-so-famous animals, pick up a few strange facts, and learn how to help some animals at risk for extinction — all while being wholly entertained.
Aimed at readers ages 7 years and older, this hilarious, informational picture book will be a hit for animal lovers and/or people who like jokes.
Author/Illustrator: Martin Brown
Publisher: David Fickling Books / Scholastic
Pub Date: July 30, 2019
ISBN: 978-1-338-34961-0
Purchase from your local bookstore at:

Or purchase at:
Amazon